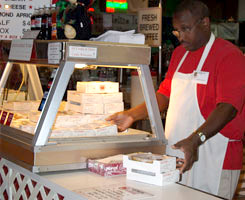 "We'll iron out all these thorny details over strudel."
-The Producers (2005)
BECOME

A VENDOR

For over 35 years Helmut's Strudel has been selling products at fairs, festivals, and special events across the country. Although we are renowned for our excellent strudels, we also sell other sweet and savory treats along with pretzels and Austrian Twists. Our licensees also market their own creations based on our puff pastry dough.

Through years of experience, skill and effort, Helmut's has developed recipes, trademarks and a unique system for opening and operating permanent and temporary stands. We specialize in the preparation, merchandising and sale of Strudel and other menu items. This system includes uniform and distinctive store designs, interior layouts, supplies, menus and service.

If you are interested in a unique business experience where you are responsible for your own income, contact us to explore the great opportunities available to you as a licensed Helmut's Strudel vendor.