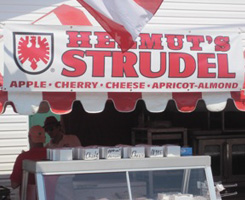 "It's your grandma's strudel that's kept this family together."
-Peggy Sue Got Married (1986)
ABOUT

HELMUT'S STRUDEL

Helmut's Original Austrian Style Strudel specializes in pastries which appeal to a wide range of tastes. Europeans have enjoyed strudel for a long time. Helmut's is the first authentic Austrian Style Strudel available in the US for national distribution.

A Master Pastry Chef, Helmut Moelk, was born in Innsbruck Austria. He came to America and started his Strudel business in Cleveland, Ohio. The primary intent was selling frozen, unbaked Strudel to institutional and retail outlets. In 1971, Helmut joined Welch Foods with the same basic scope. Five years later Helmut went direct to the consumer, serving the Strudel hot and fresh out of the oven. He conducted the sale of Austrian Strudel at special events such as fairs, festivals, conventions and sporting events. Helmut's Strudel is now available at over 200 special events across the country, primarily east of the Mississippi.

Helmut's Strudel is layers of light puff pastry wrapped around a delightful dessert filling. Our Strudel is available with apple, cheese, cherry or almond apricot filling.

For customers who want something un-sweet, we offer Spinach Puff, Broccoli Cheese Puff, Beef Wellington Roll, and Lemon Pepper Chicken.

Baked Pretzel and Austrian Twist complete the menu and can be finished in several flavors - cinnamon sugar, butter rum, sweet lemon, salt, and plain.

We use only the finest ingredients to make all Helmut's pastries and fillings. The careful skills and techniques used in preparation and baking are what give Helmut's products that "melt-in-your-mouth" quality!