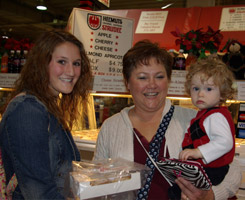 "I bought your apple strudel. It was extraordinary! It reminded me of the strudel I had when I visited Austria years ago"
-Jean K.
"It is my understanding that the Constitution of the United States allows everybody the free choice between cheesecake and strudel."
-Guys and Dolls (1955)
"More strudel, Herr Detweiller?"
"How many have I had?"
"Two."
-The Sound of Music (1965)
"I had their apple strudel which had come straight out of the oven so it was steaming hot and full of yummie goodness! You can see and smell the food going in and out of the oven.  Definitely served fresh! My apple strudel was covered in a light dusting of powdered sugar and every bite was extremely flaky. These people know how to do strudel!!!! They also have savory pastries here as well."
-Janet E.
PRODUCTS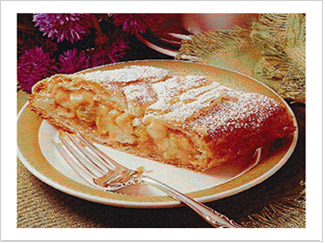 Apple Strudel
Rich with the flavor of fresh tree-ripened apples and specially selected seedless raisins. Spiced just right, with a hint of tartness for extra appeal.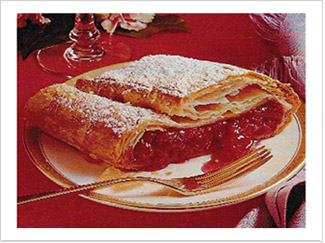 Cherry Strudel
The flavor fulfills the promise of the deep appetizing color. Just the right blend of sweetness and tartness held together with Helmut's perfect puff pastry crust.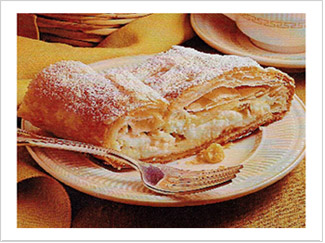 Cheese Strudel
A rich sweet cheese taste guaranteed to satisfy the most demanding gourmet. Even Frieda, Helmut's Mother, agrees this is the best.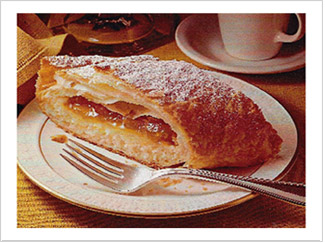 Almond-Apricot Strudel
A fantastic combination of fruit and nut flavors make this a truly unusual gourmet treat. True Austrian flavor.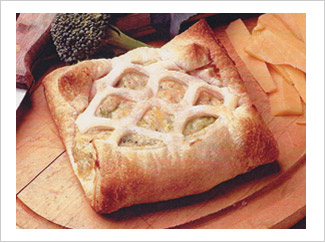 Puffs
Our customers asked for Helmut's flaky pastry to be filled with a savory or spicy filling. The results are Spinach Puffs, Broccoli Puffs and Beef Wellington Rolls. The major ingredients are chopped spinach, parmesan and cottage cheese, broccoli florets, aged cheddar cheese, fresh ground beef and a long list of garden-fresh herbs and spices.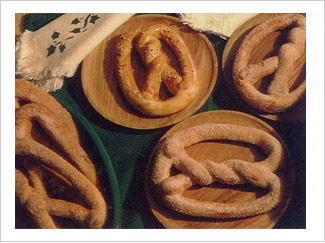 Pretzels and Twists
Baked Pretzel and Austrian Twist complete the menu and can be finished in several flavors - cinnamon sugar, butter rum, sweet lemon, salt, and plain.